Peacemaker breaks the ancient grip of Albania's blood feuds
Agim Loci works to help his countrymen observe a time-honored code for resolving disputes – but without violence.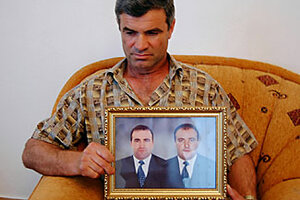 Jeffrey White
In 1994, when Agim Loci was 23, his friend tried to rape a girl.
The girl's two brothers thwarted the attack at the last moment. But the matter did not stop there: The family wanted revenge. But Mr. Loci made a highly unusual decision: He took his friend, tied him up, and made him stand in a field before the girl's entire family.
"I said, 'If you want to kill him, kill him. But then his family will come and kill one of you,' " Loci recalls. "Of course, nobody was going to kill him then."
Loci now works as a bodyguard for the Albanian Ministry of Justice. But he regards that day 14 years ago as the beginning of an unlikely second career as a volunteer peacemaker.
In addition to his ministry job, Loci is one of the leading coordinators for the Committee for Nationwide Reconciliation (CNR), a nongovernmental organization that works to broker truces between families caught in the murderous cycles of blood feuds, a custom rooted in the tradition of an "eye for an eye" and sanctioned by a centuries-old Albanian code of conduct. Feuds and revenge killings have resurfaced significantly since this Balkan country's transition from communism to democracy and are sometimes spark by issues as basic as property disputes.
World Vision, a Christian humanitarian organization that monitors Albania, says that more than 5,000 have been killed in blood feuds since 1992.
---