Post-Soviet 'frozen conflicts' heat up as big-power interests collide
Tensions are growing as NATO and a resurgent Russia divide over future of breakaway statelets.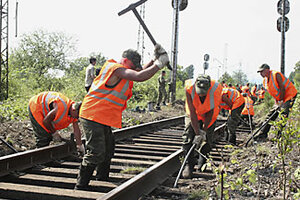 AP
OstIngur, AbkhazGeorgia border
Tensions are again spiking here on the lush, subtropical Black Sea coastal plain, where heavily armed Russian troops aided by United Nations observers have held apart the warring armies of Georgia and insurgent Abkhazia for 15 years.
Last Wednesday, two powerful bombs exploded in the Abkhaz capital of Sukhumi, destroying a section of a railroad recently repaired by Russian construction troops that Georgia says are illegally in the rebel statelet, which Tbilisi – supported by most of the world – views as Georgian territory.
The next day, a few miles from this border post, Georgian police arrested four of the Russian peacekeepers, who have been in place under a 1994 cease-fire deal, leading a top Russian general, Alexander Burutin, to warn that if it happens again, "the consequences will be grave and there could be bloodshed."
If the fragile 1991 settlement that enabled the former Soviet Union to break relatively peacefully into 15 countries starts to unravel, the flash point may well be right here. But the antagonists would not be ragtag irregulars of the 1993 war but real armies, probably backed on one side by a resurgent Russia, on the other by NATO.
---