If the first lady is a pop star, French media melt like Boursin
A new CD from Carla Bruni may produce another boost for Nicolas Sarkozy's presidency. Meanwhile, the French media struggle with objectivity.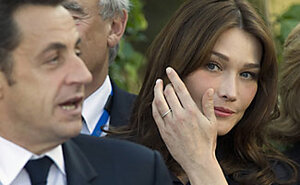 Philippe Wojazer/Reuters
Some sticklers in the French press have a problem: How much attention is appropriate when the president's wife is about to release the country's first first lady album?
Since Carla Bruni married French president Nicolas Sarkozy in February, the aristocratic former Italian fashion model has traveled and spoken so well that the initial French skepticism about her has melted.
Ms. Bruni is taking on an almost Jackie Kennedy-like aura in Europe – just as France takes over the rotating EU presidency. The "Carla factor" has proved a boon for Mr. Sarkozy, whose approval ratings had sunk to 25 percent in May.
But as Bruni, a singer-songwriter, prepares to release a CD, "Comme si de rien n'était" ["As if nothing happened"], French editors are struggling to draw a line between her pop-star celebrity and her role as a first lady. The 14-song album is her third: her first reportedly sold nearly 2 million copies, and made her France's top selling female singer in 2003.
Yet the very frenzy to book Bruni to "exclusive" interviews and front-page photos has editors and reporters here asking: Can the French fourth estate stay objective – or at least avoid the appearance of favoritism in covering a president – if the photogenic first lady is sashaying from newsroom love fests to bubbly broadcast studio sessions?
---