German bunker tour offers return to cold war
A bunker designed to shelter 400 people for two weeks – including the leader of the former East German state – opens for tours in August.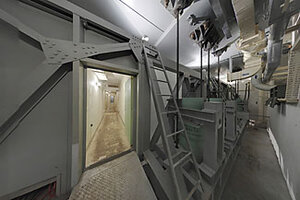 Courtesy www.bunker5001.com
At a forlorn bus stop 45 minutes outside Berlin, a faded schedule lists service to the suburbs. Voices drifting out of a workshop are the only signs of life in this 500-person town.
Nothing indicates that in the forest just a few hundred yards away is an underground bunker built to save elite East German leaders from a nuclear attack. The concrete-and-steel structure serves as a powerful reminder of the prospect of mutually assured nuclear annihilation when the US and USSR faced off in Berlin during the cold war.
The bunker will briefly drop its veil of secrecy this August, as a volunteer group opens it for three months to give the general public their first and final chance to see this bastion of a bygone era. It will then be permanently sealed.
Although a bunker built for West German leaders near Bonn opened as a museum in March, its East German counterpart has remained nearly as hidden as when construction began in 1978.
"The neighbors knew something was here then, but not what. They thought it was a missile base," explains Hannes Hensel, a photographer and leader of the Berlin Bunker Network (BBN), the volunteer group organizing tours of the bunker.
For more than two years, Mr. Hensel has traveled several times a week to the locked gate and dirt path that mark the way to the bunker.
---