U.S. Consulate strike recalls Turkey's past political violence
On Wednesday, unidentified gunmen killed three Turkish policemen at the secure consulate building in Istanbul.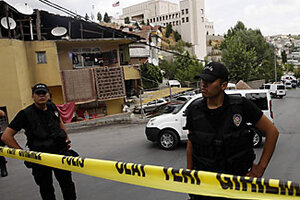 Fatih Saribas/Reuters
A lethal attack at the entrance of the United States Consulate in Istanbul Wednesday left three Turkish policemen and the three assailants dead.
The US ambassador to Turkey, Ross Wilson, called the strike a "terror attack" and a police official in Istanbul told the Associated Press that authorities suspected that Al Qaeda was behind the strike.
But without a claim of responsibility as of Wednesday morning, the list of potential suspects is long, including an array of groups that have conducted violent acts in the past against both Western and Turkish targets.
Turkey is a favorite of Westerners who flock to see its Ottoman and Byzantine historical sites and immaculate Mediterranean beaches. And the sprawling city of Istanbul, long seen as a symbolic bridge between East and West, has been used for intrigue, violent attacks, and killings by a host of groups: ultranationalists, Kurdish separatists, and Islamist militants.
"I curse strongly these kinds of terror attacks," said President Abdullah Gul on Wednesday, according to state-run Anatolian news agency. "Turkey will struggle to the end with those who organize these [attacks] and the mentality behind them."
The most serious attacks were in November 2003, when 62 people were killed by Islamist militants who targeted two synagogues, a bank, and the British consulate. Since then, security has been tight at most major consulates and embassies.
---