Dutch court upholds U.N. immunity in genocide case
Plaintiffs plan to appeal, saying peacekeepers failed to protect their relatives in the 1995 Srebrenica massacre.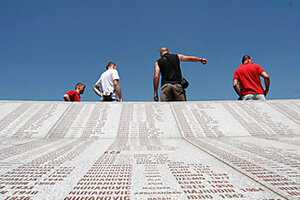 Amel Emric/AP
Is the United Nations responsible if its peacekeepers fail to prevent genocide? No, decided a Dutch court Thursday in a case likely to be appealed.
At issue is Europe's only genocide since World War II: the killing of some 8,000 Muslims in Srebrenica, Bosnia, 13 years ago this week. Last month, 6,000 plaintiffs filed a civil suit against the UN and the Dutch government in The Hague District Court. They argued that Dutch peacekeepers failed to protect their relatives in the 1995 massacre, which took place in a UN-declared safe zone.
The Hague District Court said the UN's immunity – written into its founding charter – means it cannot be held liable in any country's national court.
"The court's inquiry into a possible conflict between the absolute immunity valid in international law of the U.N. and other standards of international law does not lead to an exception to this immunity," the judges wrote in their ruling.
Axel Hagedorn, a lawyer for the plaintiffs, said he would appeal the decision. The case could go to the European Court of Human Rights. "The court ruled that the UN has immunity, even if a genocide has happened, and that is in our opinion exactly what you can't accept," he said.
---