Putin faces green Olympic challenge
The Sochi 2014 Winter Games are threatened by a looming international boycott, environmental concerns, and public protests against local development.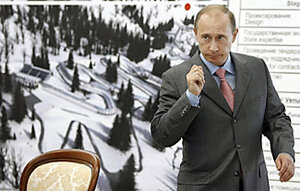 Alexei Nikolosky/AP
Here, amid the breathtaking mountain vistas of Europe's last slice of untouched alpine wilderness, the state gas monopoly Gazprom has nearly completed a huge new ultramodern ski base. Nearby, other big Russian corporations have been hastily building roads, hotels, Olympic sports facilities, and a press center to meet the Kremlin's timetable for the Sochi 2014 Winter Games.
Winning the bid for Sochi against stiff international competition a year ago was one of Vladimir Putin's crowning achievements as Russian president. But supervising the increasingly troubled preparations for the Games may be one of his biggest challenges as he settles into his new role as prime minister.
"Putin has made the Olympics his most important principle, and I'm sure he will never back down, whatever the problems," says Boris Nemtsov, a Sochi-born former deputy prime minister. "But the whole enterprise is in danger of turning into a black hole. There is no transparency in the way the money's being spent, corruption is rampant, and it's making Sochi too expensive for most people to live in."
Glitches include environmental hazards, looming cost overruns, citizens' protests, and a threatened international boycott of the Olympics led by Georgia over Russia's backing for Abkhazia.
Soviet-era roads and buildings
---