Boycott underscores Anglican rift
One-fourth of bishops have declined to attend a once-a-decade gathering of clergy.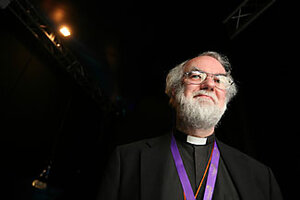 Peter MacDiarmid/Getty Images
The deep fractures in the 80-million-strong Anglican church were laid bare Wednesday as the Archbishop of Canterbury Rowan Williams opened a once-a-decade summit with a quarter of bishops boycotting the event because of a festering row over sexuality and liberal interpretation of Scripture.
Some 230 of 880 Anglican bishops, most of them from Africa and conservative American and Australian parishes are cold-shouldering the Lambeth Conference because they disagree fundamentally with Archbishop Williams and other liberal church leaders on the place of homosexuals in the life and ministry of the church.
Many of the boycotters have already launched a breakaway movement that wants to return to what they see as scriptural orthodoxy. They have been agitating for decisive action against gay clergy ever since Gene Robinson, an openly gay man, was consecrated as Bishop of New Hampshire in 2003.
Williams decided not to invite Bishop Robinson to the 2-1/2-week conference – but that was not enough to appease conservatives, who have openly broken with the US church leaders who consecrated Robinson.
"One reason why many of these people are not going to the Lambeth Conference is that they feel it would be hypocrisy to spend three weeks in fellowship and prayer and Bible study with those who have consecrated a homosexual as a bishop," says Canon Chris Sugden, a supporter of the traditionalist movement.
---