In Britain, Labour pushes ambitious overhaul of welfare system
Gordon Brown's beleaguered party unveiled proposals last week to send recipients back to work, including nearly 2 million whose disability claims are not believed to be genuine.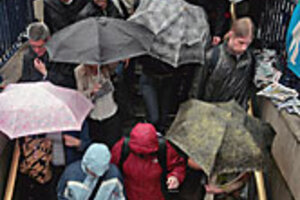 Jeff Moore/Maxppp/Newscom
After four successive electoral disasters this summer, Gordon Brown is desperately casting around for the next big idea to convince voters – and his own party – that he still has something to offer.
Here's one: get more welfare recipients – especially single parents and those with mild disabilities – to go back to work.
It's not exactly a new idea. Over the past 11 years, the Labour government claims to have helped a million people back into work through various carrot-and-stick programs for young people and the long-term jobless. But more than 10 percent of Britain's potential workforce remain on welfare. Only 57 percent of single parents have jobs, compared to as many as 80 percent in countries like Sweden and Denmark.
And a report released last year said that less than a third of the 2.7 million claiming disability benefits were genuine. The government clearly believes now that there is social justice – and votes – to be had from tackling this conundrum.
True, tough-love measures might impress hardworking taxpayers sniffy about the welfare state, who are deserting Labour in droves. But the reforms also risk alienating core supporters who believe Labour should be about defending the underclass, not punishing it.
---