Russia's other Olympic powerhouse – in parliament
In a controversial bid to gain support, the ruling United Russia party has bolstered its ranks with eight Olympic medalists, a popular singer, and a prima ballerina from the Bolshoi Ballet.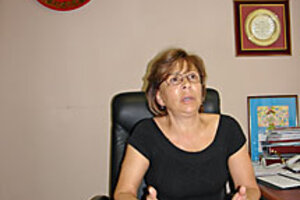 Fred Weir
Long known for its Olympic champions, Russia has a 2008 roster all but guaranteed to bring home numerous gold medals. But it also has a contingent of Olympians at home that make for quite a powerhouse – in parliament.
Among the eight champions are swan-like gymnast Svetlana Khorkina, a seven-time Olympic medalist; Alexander Karelin, a wrestler who went undefeated from 1987 to 2000; and pairs skaters Irina Rodnina, who won three consecutive Olympic gold medals and 10 World Championship titles from 1969 to 1978.
Elected to the State Duma in December on the ticket of Vladimir Putin's United Russia (UR) party, Ms. Rodnina – one of the most beloved Soviet figure skaters – is the doyenne of a highly visible group of celebrity politicians recruited to boost UR's clout with average citizens.
"As Russia is a young democracy, and we are still illiterate about laws and such, it's easier for people to turn to figures that they trust," says Ms. Rodnina, a peppery mother of two who lived in the US for 12 years before returning in 2002. "When people have done everything for the good of their state in the realm of sports, it's natural to believe they'll do the same in politics."
---