Calls for France to rethink its Africa role
A Rwandan report this week charged Paris with complicity in the 1994 genocide.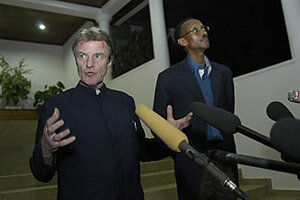 Riccardo Gangale/AP
A bombshell of a report by Rwanda this week implicating high-ranking French officials in the arming and training of Hutu forces that committed genocide in Rwanda – could have been issued last November. President Paul Kagame sat on the 500-page study, approved by the Rwandan Senate, for months.
It was a time of some bonhomie with France. President Nicolas Sarkozy and Foreign Minister Bernard Kouchner, much liked in Kigali, were working on a new rapprochement policy – after Rwanda broke all ties with France in 2006 over a French judge's indictment of Mr. Kagame for allegedly ordering an assassination in 1994.
Kagame, a Tutsi, appears to have lost patience with France. He had hoped that the 2006 indictment would be renounced and that high-level Hutus still living in France would be deported to Rwanda to face genocide charges.
Still, what is likely the last major report on the 1994 Rwandan genocide that killed more than 800,000, leaves France with an embarrassing problem – one cutting to the heart of its own political elite, to a network of French unofficial "parallel structures" of commerce and intelligence in Africa, and to how a major power will deal with thorny questions of justice about its behavior in the postcolonial world.
---