Russia's big Caucasus win
Moscow has gained leverage, threatened Georgia's pro-West leader, and bolstered national pride.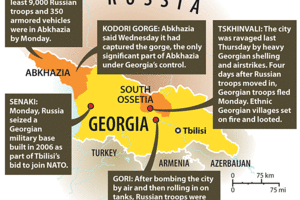 SOURCES: Associated Press, Reuters, and Human Rights Watch/Rich Clabaugh–STAFF
In less than a week of military operations sparked by Georgia's assault on its breakaway province of South Ossetia, Moscow is emerging as the immediate winner. A still-stunned West is looking for ways to censure Russia for its "disproportionate" incursion into Georgia that has reshaped the strategic game in the Caucasus and beyond to Russia's great advantage.
"If the Russians stop hostilities now, they will have redrawn the whole strategic situation in the Caucasus, to the detriment of the Americans," says François Heisbourg, special adviser to the Foundation for Strategic Research in Paris. "No one will invest in Georgia, in oil pipelines, in new ventures [there] now.... The game is over. In the new version of the Great Game, the Russians can cash in." The scope of the "victory" is substantial: Moscow controls territory and leverage, has incapacitated the Georgian military, denied Tblisi its much-hoped-for NATO status, and put the Georgian leader it despises – Mikheil Saakashvili – into a tough position.
---
Follow Stories Like This
Get the Monitor stories you care about delivered to your inbox.