Sarkozy resolute on Afghanistan despite death of 10 French soldiers
The French president sees Afghanistan, unlike Iraq, as a matter of global security and NATO responsibility.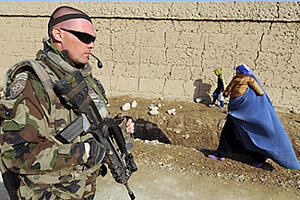 Shah Marai/AFP/Newscom
The 10 French paratroopers killed and 21 wounded in Afghanistan – nearly an entire platoon and the highest French casualties since 1983 in Lebanon – were from a battalion that took control of Kabul only two weeks ago. The event hit Paris hard enough to cause French President Nicolas Sarkozy, fresh from negotiating the Georgian dispute in Moscow, to leave for Afghanistan Tuesday evening to visit the troops.
Both Mr. Sarkozy and the clearly angry French minister of defense, Hervé Morin issued tough statements in support of the French Afghan mission – a mission Sarkozy has steadily supported as a matter of world security and NATO responsibility, in contrast with the Iraq war.
Sarkozy has slowly and successfully shifted the discussion in France toward support of a more robust Afghanistan mission. Unlike nearly all European leaders, he has even begun to adopt the terminology of a "war on terror," a deeply unpopular phrase on the Continent, and one that has not particularly caught hold at home.
---