Russia tries to exploit division in Europe
Moscow's strategy to drive a wedge between European countries was on display during Monday's EU crisis meeting.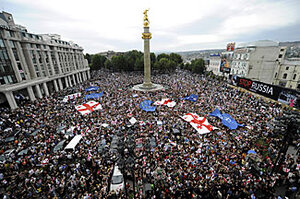 Irakli Gedenidze/AP
As Europe wrestles over how to deal with a game-changing Russia, the largest country in the world, it faces one of the oldest tactics in Moscow's diplomatic playbook: the art of divide and separate.
That strategy was on display Monday in the first European Union (EU) crisis summit since the 2003 Iraq war. The 27-member Union strongly condemned Moscow's Aug. 8 blitz into Georgia and its recognition of two breakaway republics – and warned Russia that it faced isolation if such actions continued, though the summit fell short of more serious and controversial actions, like sanctions.
Before, during, and after the EU event – which ended with an 11-point statement seen by Brussels insiders as marking a "crossroads" in Europe's relationship with Russia – Moscow put on a concerted effort to highlight divisions among European nations, and between the US and Europe.
It sought to target divisions inside Germany, played on Italian and French concerns about the consequences of tough actions, and belittled the deeper worries in the "new Europe" bloc, led by Poland and the Baltics, contrasting them with the "reasonable" approach of what former US Secretary of Defense Donald Rumsfeld famously called "old Europe," further west.
---