Russians hail Georgia deal as big win
This week's deal to end the Russia-Georgia war may drive wedge between US and EU.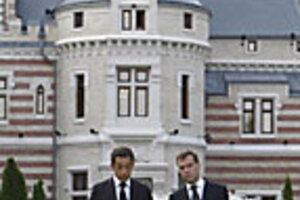 Dmitry Astakhov/Kremlin/Ria Novosti/Reuters
Russian experts are hailing this week's new deal to withdraw Russian troops from Georgia as a big diplomatic win for fledgling Kremlin leader Dmitry Medvedev.
Under the deal, hammered out between French President Nicolas Sarkozy and President Medvedev, and later affirmed by Georgian President Mikheil Saakashvili, Russian forces will decamp from their "observation posts" inside Georgia within a month, to be replaced by up to 200 observers from the European Union, who are due to arrive by Oct. 1.
Mr. Sarkozy, who holds the EU's revolving presidency, brought Medvedev a Georgian pledge not to use force against its two breakaway republics – a key Russian demand – and Medvedev promised to begin dismantling Russian military checkpoints around the Georgian towns of Poti and Senaki within a week. Georgian officials confirmed Tuesday that Russia had already started withdrawing troops.
The deal may help to drive a wedge between and Washington, which struck a tough note by freezing a US-Russia nuclear cooperation deal on Monday, and a more dovish Europe.
---