As Wall Street tumbles, the world quakes
Markets from London to Tokyo fell on the news of Lehman Brothers' bankruptcy.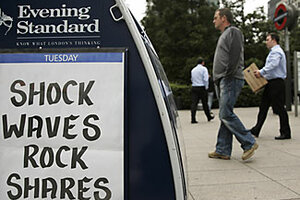 Sang Tan/AP
Talk of Europe or Asia marching along "decoupled" from the US economy is now gone. No sooner had America's fourth-largest investment bank filed for bankruptcy on Monday than hundreds of suddenly jobless Lehman Brothers staff spilled onto the streets of London.
It was a tangible sign that global markets and economies are still intimately connected. Banks, insurance companies, pension funds, and mortgage companies from Tokyo to the City are closely tracking the handling of the US financial crisis. While exposure to the root of the problem – toxic securities derived from US subprime home loans – may be lower, financial systems elsewhere are feeling the same squeeze.
"This is a global crisis, not a local crisis," says Jeremy
Batstone-Carr, an analyst at Charles Stanley, a London brokerage firm. He says there is a "distinct possibility" that other institutions in Europe or elsewhere could follow Lehman into bankruptcy.
---