Russia woos Georgian territory with jobs, tourists
Moscow is offering Abkhazia a set of economic benefits, on top of a security guarantee.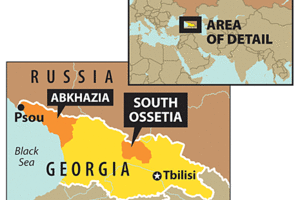 Rich Clabaugh–STAFF
At Psou, a town on the border between Russia and Abkhazia, elderly women wheel trolleys of vegetables and household goods from Russia to sell in Abkhazia. A few Russian tourists – incongruous in their bright clothes and bikinis – bob between the shuttle traders, headed for sunny holidays amid the palm trees on Abkhazia's Black Sea coast.
Officials in Sukhumi, the capital of the breakaway Georgian region that has functioned as an independent state since 1993, are expecting an economic boom over the next few years that will reduce the number of those dependent on shuttle trading to make ends meet and boost the number of tourists exponentially.
After Russia officially recognized Abkhazia and South Ossetia as independent states last month, in the wake of the war with Georgia, the signs are that Russian capital will flood Abkhazia, raising living standards in the region and pulling it further away from Georgia's orbit and closer to Russia's.
"We're expecting massive economic development over the next few years thanks to this decision," says the Abkhazian foreign minister, Sergei Shamba. Already most of Abkhazia's trade is with Russia, and many of its citizens have Russian passports.
Russian President Dmitry Medvedev signed a friendship treaty with Abkhazian President Sergei Bagapsh on Sept. 17 that guarantees Russia will militarily defend Abkhazia in the event of an attack from Georgia.
---