Europe pushed to produce its own rescue plans
Three major lenders were rescued on Monday as the global credit crisis spread.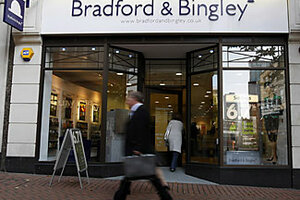 Kristy Wigglesworth/AP
Europe had no time Monday to monitor the US attempt to bail out its banking sector. It was frantically dealing with new leaks in its own financial boat.
The collapse of three big lenders in Britain and Western Europe amplified concern over a domino effect across global banks, and gave rise to a new key question: Will Europe follow America's lead in underwriting its teetering banking sector?
In effect, it already has on a case-by-case basis. Governments in Britain, Belgium, the Netherlands, and Luxembourg were forced to intervene Monday to rescue banks, plowing billions of taxpayers' dollars into two failing institutions.
The part-nationalization of the Dutch-Belgian Fortis and Britain's eighth-largest bank, Bradford and Bingley, demonstrated that Europe's leaders are no less resolute than their American counterparts when it comes to bank rescues, and even the expectation of Congressional approval of a $700 billion US bailout (which failed to pass Monday afternoon) did not helped bank balance sheets.
"The cocktail of news hasn't been optimistic," says Richard Hunter, a market analyst with stockbrokers Hargreaves Lansdown. "There are other factors at play in terms of what's happening with Fortis and Bradford and Bingley, so [the US bailout] certainly is not the panacea that some people were hoping for."
---