If Russia's leaving, S. Ossetia town asks: Why build a new road?
The residents of Akhalgori, a town located just 25 miles from Georgia's capital, say Russian troops are creating a new military supply route.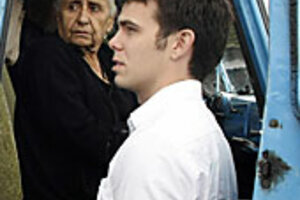 Georgy Abdaldaze/AP
On Sunday, Russian troops began to vacate checkpoints in Georgia set up after the brief war in August. Russia faces a deadline of Friday to pull all of its troops from Georgia under cease-fire terms agreed upon with the European Union.
Russian soldiers are also supposed to leave Akhalgori, a small town strategically located just 25 miles northwest of Georgia's capital.
If that's the case, why are Russians now upgrading a dirt road connecting Akhalgori with South Ossetia's capital, Tskhinvali? ask town residents. They say it's part of a Russian plan to stay – or at least to be in a position to return rapidly.
"There's no real road there yet, but they're building it," says an elderly woman who would only give her first name, Yevgenia. She and nearly a dozen other residents interviewed separately confirmed that Russian troops are working on the road now. The residents have been told by Russian soldiers that the goal is to make it usable for military equipment.
Akhalgori is in a valley on South Ossetia's periphery, cut off by thickly wooded ridges from the rest of the de facto independent state. The valley had been under Georgian control since fighting began in the early 1992, but Russian troops and South Ossetian separatists seized the valley on August 17.
To resupply and rotate troops in the valley, the Russian military has had to either drive through Georgian-controlled territory or use helicopters. The improved road, which runs out of Akhalgori to the northwest, would provide a secure supply route.
---