On crisis, Europe to US: 'I told you so'
Europeans blame economic mess on US 'anything goes' capitalism as Iceland faces a full meltdown.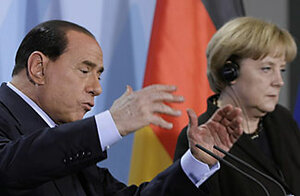 Miguel Villagran/AP
The economic image of the United States as a high-rolling tycoon at a Vegas casino, willing to gamble and reap rewards, has always stood in stark contrast to that of the European bean counter.
Now here in Europe, long a bastion of distrust toward unfettered capitalism, there's a question running underneath the financial crisis: Is the era of "anything goes" free markets over?
French President Nicolas Sarkozy is refuting the infallibility of free markets. Italian Finance Minister Giulio Tremonti is touting his best-selling book, a treatise against globalization. His German counterpart, Peer Steinbrück, points a sharp finger of blame at the United States, telling parliament recently that it is "the source" and "the focus" of the crisis.
"Some in Europe see the financial crisis as a win on points for the Continental financial system against the Anglo-American one," conservative commentator Friedhelm Hengsbach recently wrote in the Süddeutsche Zeitung, a German daily.
---