Why Britain is leading the world out of the banking crisis
On Tuesday, the US was the latest nation to follow Gordon Brown's blueprint for rescuing banks.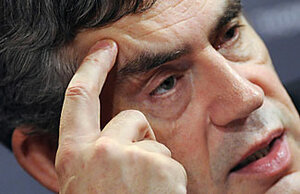 Toby Melville/Reuters
If imitation is the sincerest form of flattery, Britain's Prime Minister Gordon Brown can consider himself highly commended.
One by one his European counterparts have closely modeled their own financial rescue plans on a British blueprint that calls for capital injections into banks and guarantees for interbank lending.
On Tuesday, the United States moved to buy stakes worth up to $250 billion in the nation's nine leading banks, an operation that closely mirrored Mr. Brown's own decision Monday to partly nationalize three struggling banks.
Brown's leading role has drawn praise from friends and enemies, at home and overseas. Labour Party rebels, once determined to unseat him, have called a truce. British opposition parties grudgingly acknowledge the merit in his plan. The French media, never too kind to leaders across the Channel, declared him a "magician," as President Nicolas Sarkozy followed Brown's lead.
The newly crowned Nobel economics laureate Paul Krugman wondered semi-seriously whether Brown had saved the world financial system. Brown and his treasury team had, Mr. Krugman wrote, shown clarity of thought, speed of action and a "decisiveness [that] hasn't been matched by any other Western government."
---