After summer war, identity crisis grips Abkhazia
The war with Georgia may help make the breakaway province more independent.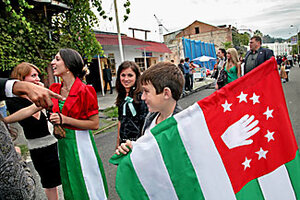 Justyna Mielnikiewicz
Abkhazia is in the midst of an identity crisis.
While the tiny Black Sea republic, recognized only by Russia and Nicaragua, has defiantly proclaimed its independence from Georgia for 15 years, it's having trouble letting go of its ties to Russia.
Billboards in the capital city, Sukhumi, proclaim: "Independence, freedom, and peace," but only under juxtaposed images of Russian and Abkhazian flags and the two countries' presidents. Stores are stocked with Russian goods, and every summer Abkhazia's pristine coast is flooded with Russian tourists.
Despite its fierce nationalism, Abkhazia remains dependent on Russia for its economic stability and security, making it difficult for the country to forge new diplomatic relationships.
Following the August war in which Abkhazia sided with Russia against Georgia, Abkhazians still recognize the need for Russian protection, however, many now hope to broaden their economic partnerships beyond the former communist Goliath.
"What we need is investment," says Beslan Boutba, leader of the Party of Economic Development of the Republic of Abkhazia. Until more countries recognize Abkhazia's independence, he says, Russia will continue to indirectly influence the country by providing the only much-needed investment for the region.
---