Brits try to retrieve assets frozen in Icelandic banks
The country's banks expanded greatly during boom years and now can't roll over the debt.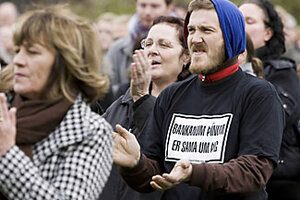 Arni Torfason
It's a country with a population smaller than Cincinnati and a climate that can only be described as frigid. But for a couple of boom-time years, Iceland was the hottest investment idea around: high returns, a rock-solid credit rating, and a dab of the exotic to go with it.
But now, as the North Sea island goes into financial meltdown – the first sovereign victim of the global financial crisis – hundreds of thousands of people are ruing their decision to park money in Icelandic banks - and many of them are British.
In a striking example of the intertwined nature of global finance, capital, risk, and liability, entire classes of British savers – housewives, expatriates, city halls, police forces, universities, even charities – are scrambling to get billions of pounds' worth of savings back.
And in a telling sign of a more conservative era ahead, many are indicating that they will not be so adventurous in the future. The upshot of the effective bankruptcy of Iceland Inc. is that a lot of money will revert to safer shores in Britain and Europe.
"People will return to brands they know," says Neil Freemantle, a an independent financial adviser in Britain. "Advice will change. People have had their fingers burned and are going to go back to choosing the things they know and trust."
---