French assertiveness on credit crisis jars Europe
A spirit of cooperation is tested ahead of a crucial series of meetings to prepare for a Nov. 15 US summit.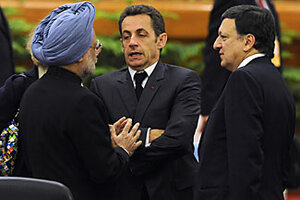 Minoru Iwasaki/Reuters
As European leaders gather next week in a crescendo of meetings ahead of a Nov. 15 global financial summit – a "Bretton Woods II" in Washington – they face an old problem: unity.
That summit, described variously as "visionary" and "bold" under the leadership of British Prime Minister Gordon Brown and French President Nicolas Sarkozy, is designed to build on the spirit of cooperation in the rescue of world banks in the credit crisis.
Yet just as quickly as Mr. Sarkozy got credit for bringing Europe together in a moment of crisis, he's roused the ire of a crucial ally, Germany, and several other European nations.
As president of the European Union, and with little consultation, Sarkozy pushed economic reforms opposed by Berlin, and even hinted that France should step into key posts that govern the eurozone, and possibly even prolong its six-month EU presidency, due to end on Jan. 1.
The reaction was harsh – and prompted squabbles ahead of the Washington global summit.
---