Russian sub accident points to Navy's shortcomings
At least 20 people died on the sub, which media reports say was to be handed over to India.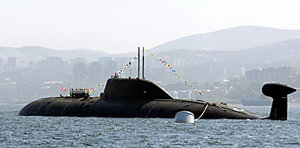 AP/FILE
An accident aboard a Russian nuclear attack submarine that killed at least 20 and injured 22 late Saturday, is the latest in a series of undersea tragedies that have struck the Russian Navy as it struggles to regain Soviet-era capacities.
The ship's nuclear reactor was undamaged in the incident, and survivors evacuated to the naval base at Vladivostok on Sunday, Russian officials said.
"During sea trials of a nuclear-powered submarine of the Pacific Fleet the firefighting system went off unsanctioned, killing over 20 people, including servicemen and workers," Russian naval spokesman Cpt. Igor Dyagalo told journalists.
"The submarine is not damaged, its reactor works as normal, and background radiation levels are normal," he added.
The malfunction of the firefighting system, which spewed deadly freon gas through the forward compartments of K-152 Nerpa, an Akula-II class attack sub undergoing diving trials in the Sea of Japan, has a little-known international twist. Though neither government has officially admitted it, both Indian and Russian media have been reporting for months that the 12,000-ton Nerpa was to be handed over to the Indian Navy early next year under a 10-year lease.
The acquisition would multiply India's military capabilities in the sensitive Indian Ocean, and raise questions about Russia's role in proliferating nuclear technologies. Indian news agencies reported last week that a team of 40 Indian naval specialists was slated to arrive later this month in Vladivostok to learn about the ship.
---