A painting called 'Hope' wins fans as Barack Obama's inspiration
A London museum attracts tourists with the artwork that inspired the famous phrase, 'audacity of hope.'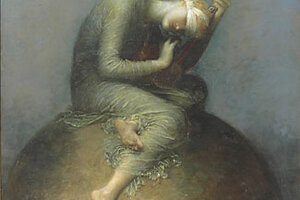 Tate, London/Art resource
It's a bit off the beaten tourist track, and anyone looking for it may find a street map useful.
Yet in the past two weeks, this cozy little art gallery nestled in central London has attracted a growing trickle of visitors in search – literally – of hope.
In this case it takes the form of a painting which may have helped inspire Barack Obama.
Entitled "Hope," the canvas hanging inside London's Guildhall Art Gallery as part of an exhibition by Victorian painter George Frederic Watts might appear unremarkable to some.
In drab browns and grays on a blue background, it depicts a young blindfolded woman strumming on the last unbroken string of a harp, her ear to the instrument.
Obama's controversial former pastor Jeremiah Wright invoked the image as a symbol of inspiration during a sermon in Chicago 20 years ago.
The harpist, he preached, "is sitting there in rags ... her clothes are tattered as though she had been a victim of Hiroshima… [yet] the woman had the audacity to hope."
The imagery stayed with Obama. The young politician adapted that phrase in his keynote address at the 2004 Democratic Convention – which marked his breakthrough onto the national stage – and again in 2006 as the title of his second book.
These days, a little Obamaphilia is rubbing off on the often forgotten Guildhall Art Gallery, established in the historic heart of London in 1885.
Destroyed in 1941, it was reopened as a new gallery in 1999 and displays 250 works of art at a time.
Staff say they are surprised at the level of interest in the current Watts exhibition, and specifically in "Hope," and insist that the timing of the exhibition was purely coincidental.
---