Britain's civil liberties in spotlight after Parliament raid
Politicians and the press have protested police's decision to raid Parliament and arrest Conservative MP Damian Green.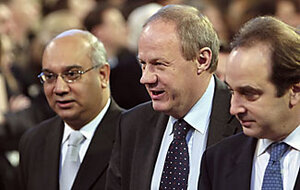 Leon Neal/WPA/AFP/NEWSCOM
In the 2-1/2 years since 52 London commuters were killed by suicide bombers, Britons have become accustomed to news of police swoops on the homes of suspected terrorists.
But a counterterrorist unit's series of raids last week sparked shock and anger because of the unlikely target – a Conservative member of Parliament.
Officers didn't just search the home of Damian Green – they arrested him, raided his office, and detained him for nine hours as part of an investigation into the leaking of government documents.
The raids have led to an outcry among lawmakers, the press, civil liberties groups, callers to phone-in shows, and writers to letter columns who have long accused the government of eroding civil liberties in the fight against terrorism. Many are calling for protection from a "police state."
A debate has already been under way about whether too many "Big Brother" laws are coming into force, most notably after recent government attempts to institute a national identity card and to extend the number of days some suspects can be held without charge. The affair also comes in the wake of an outcry earlier this year over the bugging of an MP visiting a constituent in prison.
Mr. Green, who was released on bail without charge, was arrested for conspiring to "commit misconduct in public office," which is not an antiterrorist law. He is accused by detectives of "grooming" a civil servant in an attempt to obtain sensitive government documents. The parliamentarian has a history of using leaked documents relating to immigration issues to embarrass the government. (Editor's note: The original version incorrectly implied that Green himself leaked documents.)
---