Ukraine will pay its $2 billion Russian gas bill
Ukraine said Tuesday that will avoid a Kremlin cutoff in gas supplies. European gas customers breathed sighs of relief.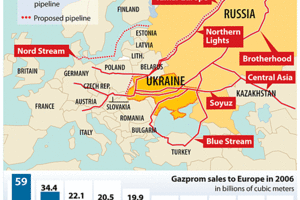 SOURCE: EIA/AFP
In what is becoming an unpleasant New Year tradition, Russia again threatened to cut off Ukraine's gas supplies if the struggling post-Soviet state failed to pay off at least $2 billion in arrears by Dec. 31.
By Tuesday evening, Ukraine appeared to have averted a cutoff by borrowing money from the country's two biggest state banks. A spokesman from Russia's state gas monopoly, Gazprom, said that no money has been received yet.
Even if the immediate crisis is resolved, the underlying tensions between Russia and Ukraine remain – and could result in another standoff later.
Ukraine is floundering amid financial paralysis and is racked by political conflict between President Viktor Yushchenko and Prime Minister Yulia Tymoshenko. Europeans are watching developments closely, worried that any extended cutoff of the main energy artery between Russia and the West could leave them facing serious disruptions this winter.
Europe depends on Russia for some 40 percent of its natural-gas consumption, and most of that arrives via a Soviet-era pipeline through Ukraine.
Gazprom, itself requesting a government bailout, insists that the Ukraine dispute is purely commercial, and has appealed to Europeans for "understanding." Some Ukrainians, however, claim there is a political subtext to Russia's demands and warn that the Kremlin's real target is their government's aspirations to join NATO and draw Ukraine closer to the European Union.
---