Europe begins to feel gas pipeline pinch
The Russia-Ukraine gas war has left some downstream nations with only a mild shortfall, but has incited debate on how to secure energy reserves amid regional instability.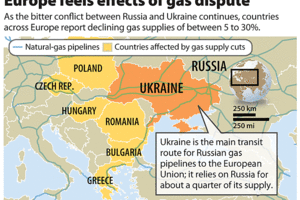 SOURCES: AP, Chicago Tribune, Energy Informaton Administration, ESRI/© 2009 MCT
Thermometers are plunging across Europe, and so is the pressure in the natural-gas pipelines connecting the continent with its key supplier, Russia.
But no one is pushing the panic button yet. The five-day-old gas war between Moscow and Kiev appears worse than in past years, aggravated by Ukraine's deepening financial and political crises and Russia's urgent need to refloat its floundering state budget by raising gas prices. Europe, watching closely, has sufficient gas reserves to see it through any short-term crisis and has officially declined to take sides.
The increasingly acerbic dispute, which has seen Russia's state gas monopoly Gazprom accuse its Ukrainian counterpart of "stealing" gas and acting to damage the pipeline that transports 80 percent of Russia's gas exports to Europe, may be doing permanent harm to Moscow's relations with its most important ex-Soviet neighbor. It has also reignited a European debate about how to secure energy supplies amid deepening instability in the resource-rich former Soviet lands to the east.
---
Follow Stories Like This
Get the Monitor stories you care about delivered to your inbox.