Alleged coup plot probe roils Turkey
Last week's arrest of senior military officers and the discovery of several weapons caches deepens the investigation into a suspected secularist coup plan.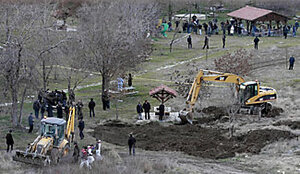 Umit Bektas/Reuters
An investigation into an alleged plot by secularist ultranationalists to overthrow the Turkish government deepened with last week's arrest of senior military officers and the discovery of several weapons caches.
At the same time, there is growing concern that the probe – aimed at tackling longstanding, antidemocratic forces in Turkish politics – could lead to increased tension between the government and Turkey's powerful military.
"If the prosecution continues as we have seen it, we can have an extremely dangerous situation," says Gareth Jenkins, an Istanbul-based expert on Turkish security issues.
"You now have extreme distrust between the government and the military. What we don't want is a situation where the military believes the government is out to get it."
The investigation into the coup plot, which started in June 2007 and is known as "Ergenekon," has already resulted in the arrest of some 100 people, among them retired four-star generals and prominent politicians, journalists and academics. According to an indictment, the plotters were hoping to bring down the Islamist-rooted Justice and Development Party (AKP) by sowing enough chaos, through terror attacks and high-level assassinations, that the military would be forced to intervene.
Weapons caches found
In recent days, following sketches found in the homes of some of the suspects, police have uncovered two weapons caches buried on the outskirts of Ankara. Among the weapons were hand grenades, plastic explosives, and ammunition.
For many Turks, the investigation and the arrests – particularly of high-level military personnel – offer a chance to expose and unravel some of the work of the "Deep State," a phrase used to describe a shadowy zone where state interests intersect with lawless and corrupt elements of the bureaucracy, military, and the security establishment.
---