Closing Guantánamo: Will Europeans take detainees?
Europeans, who have long pushed to close the controversial facility, are hesitant to take some of its inmates.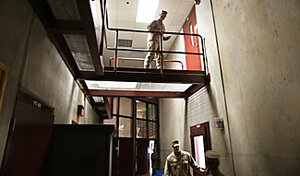 Brennan Linsley/AP
On no single issue has Europe been more in disagreement with America than the Guantánamo detention center. The camp was a focus of anti-US protest here, synonymous with the image of a bullying world power using torture to obtain confessions from terror suspects.
The European Union collectively called for closing "Gitmo." Now, Barack Obama, who is deeply admired in Europe, has ordered Gitmo trials to be halted, and signed an executive order Thursday to close Guantánamo within a year.
It sounds like Europe's dream scenario. Yet European states are not rushing to take detainees, a step considered essential to closing the camps.
Rather, on the eve of a Jan. 26 meeting of foreign ministers in Brussels that takes up the question, there's more temporizing than unity – and a possibility that some states that say they will take inmates considered wrongly detained may hide behind bureaucratic moves to tie such help to a collective EU agreement. Such agreement may be difficult.
In France, and also in Germany, where Chancellor Angela Merkel was first in Europe to call for closing Guantánamo – foreign and interior ministers are now making conflicting statements over a willingness to play host.
---