London buckles under worst snow in 18 years
Britons are shaking their heads at how 8 inches ground one of the world's busiest cities to a halt.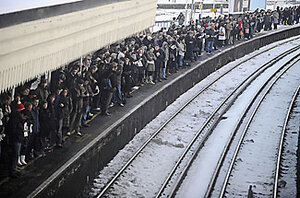 Toby Melville/Reuters
Something happened this week that was so unexpected, so chaotic, that life in one of the world's busiest and wealthiest cities ground to a halt.
Schools and businesses closed, roads emptied of traffic, and London's public transport network of buses and trains was paralyzed.
It snowed.
After the heaviest snowfall for 18 years on Sunday night – four inches overnight plus another four Monday – Britons were shaking their heads Tuesday at the lack of preparation for a storm that had been widely forecast.
A postmortem is now under way into how the country's transport system buckled so badly, particularly in the capital.
In London, 10 out of 11 subway lines were suspended on Monday, most buses were halted and all flights at Heathrow and London City airports were canceled, leaving thousands stranded.
On Sunday night, my friends had laughed at the mild choice of language used by the weather forecaster, who spoke of a "significant snow event."
By Monday morning all had changed after the southeast of England bore the brunt of the snow, which was as deep as 25 centimeters (10 inches) in Kent and Surrey, the counties bordering London.
Like thousands of others, we hit the public parks to savor an extremely rare experience, pelting one another with snowballs.
Helping a Brazilian family construct their first ever snowman, we remarked on how strangers seemed to be smiling at each other for a change.
---