Holocaust denial: Vatican shifts into damage control
The Vatican is trying to clarify efforts to reconcile with a sharply right-wing set of bishops excommunicated in 1988.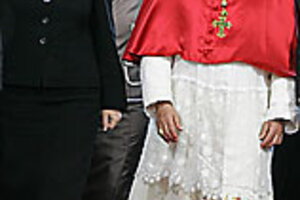 AP/File
After unprecedented outcry in Pope Benedict XVI's home country of Germany by Roman Catholic and Jewish leaders worldwide, the Vatican this week clarified efforts to reconcile with an ultra-right-wing set of bishops excommunicated in 1988, one of whom denies that the Holocaust, or the Shoah, took the lives of 6 million Jews during Nazi rule here in World War II.
Bishop Richard Williamson of the hard-right St. Pius X Society "must absolutely, unequivocally and publicly distance himself" from statements denying the Shoah, stated the Holy See.
The Vatican has been in serious damage control for at least a week. German Chancellor Angela Merkel asked the Vatican Monday to clarify its position – amid some of the most open dissent and dismay by Catholic bishops in Europe under Pope Benedict, formerly Cardinal Joseph Ratzinger.
The crisis underscores the difficulties the pope faces in his project of reestablishing traditional Christianity in Europe and rolling back the liberal influences of Vatican II inside Catholicism – in a world more diverse and secular, a religious landscape more ecumenical, a church divided over doctrine and approach, and papal authority seemingly more subject to outside opinion, as in this week's virtual censure of the pope by Ms. Merkel.
Seeing revival in traditionalism
---