To shelter its cuisine, Italian city bans foreign flavors
New eateries that serve kebabs, couscous, and even pineapple are no longer welcome in Tuscan town of Lucca.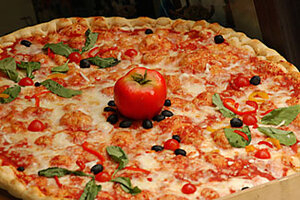 Newscom
Until recently, Italians overwhelmingly ate Italian food, but a decade or more of immigration has seen a surge of new foreign food eateries.
Now, one city has declared that enough is enough. The walled, medieval bastion of Lucca, in the heart of Tuscany, wants no more of the kebab shops and Chinese restaurants that have sprung up along the cobbled streets of its centro storico, or historic center.
Lucca, a tourist hot spot that lies 40 miles from Florence, has declared a ban on the opening of any more "ethnic" food outlets in what it says is a campaign to preserve authentic Italian – or more specifically, Tuscan – culinary traditions.
The initiative, announced by the city council last month, has sparked an intense debate about whether it amounts to legitimate cultural protectionism in an age of rapid globalization, or an ugly manifestation of gastronomic racism.
Lucca's center-right council, which passed the measure by 23 votes to 11, says ethnic restaurants betray Tuscany's culinary heritage.
Kebabs, curries, and couscous are now out, in favor of such local specialities as zuppa di faro, a grain-based soup, and torta di spinaci, a tart made with spinach.
The ban is staunchly supported by Italy's agriculture minister. "This is not a battle against anything or anyone, but a defense of our culture and our agriculture," said Luca Zaia, a member of the right-wing, anti-immigration Northern League, which campaigns for greater autonomy for Italy's rich north. "In Italy we have available 4,500 typical food products. Every one of these represents the culture and history of our country," he added.
---