Some British Christians feel oppressed in the public square
High-profile cases involving Bible-sharing and prayer have raised concerns. But many say that reining in certain expressions of faith is a necessary compromise in a multicultural society.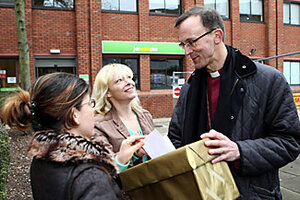 David Jones/PA Wire
For a nation shaped by an overtly Christian heritage, Britain has apparently become a difficult place to be overtly Christian.
The conservative press bewails a steady erosion of Christian values. A member of Parliament has called for debate on "systematic and institutional discrimination toward Christians." Even former Prime Minister Tony Blair recently let slip how aides would brusquely suppress any instinct he had to bring his faith into public view.
Now, a succession of ordinary Christians are finding this rule applies to them, too.
Earlier this month, Caroline Petrie, a nurse, was suspended for offering to pray for a patient. The case echoed another incident in which social worker Naphtali Chondol was fired for giving a Bible to a client.
Elsewhere, a teen was prohibited from wearing a chastity ring in school in a case redolent of British Airways's move to forbid a check-in worker, Nadia Eweida, from wearing a cross. A university Christian group was banned for requiring that members attest to their belief in God. The requirement was considered discriminatory.
"There's going to be lots more cases like this," says Paul Diamond, a barrister specializing in religious liberties cases who represented both Ms. Petrie and Ms. Eweida. "Christians are a soft target – it's easy to be nasty to them."
---