Is access to clean water a basic human right?
A growing movement thinks so, saying it will guarantee that the poor have water. But at a water conference in Turkey, officials voice concern about implementing such a right.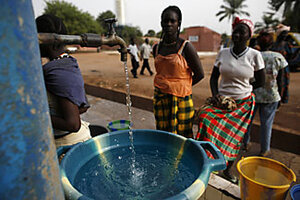 Rebecca Blackwell/AP
With fresh water resources becoming scarcer worldwide due to population growth and climate change, a growing movement is working to make access to clean water a basic universal human right.
But it's a contentious issue, experts say. Especially difficult is how to safely mesh public-sector interests with public ownership of resources – and determine the legal and economic ramifications of enshrining the right to water by law.
"It's an issue that is snowballing," says Tobias Schmitz, a water-resources expert with Both Ends, a Dutch environmental and development organization. Some 30 countries have a constitutional or legal provision ensuring individuals' access to water, up from a handful a few years ago, he says.
"Everybody is grappling with the issue, knowing that we need to secure this right. But the question now is over the practical application of this right," Dr. Schmitz says.
Government officials and leaders of numerous nongovernmental organizations and companies working on the water issue are meeting this week in Istanbul as part of the World Water Forum, which takes place every three years in a bid to shape global water policy.
One of the thorniest issues governmental officials at the forum have struggled with has been this question of the right to water. A declaration to be signed by the ministers of some 120 countries attending the forum is expected to refer to access to water as a "basic need," rather than a right.
The United States – along with Canada, China, and several other nations – has so far refused to recognize the human right to water.
There are concerns among some countries – based on a misconception, experts say – that enshrining a universal right to water would force them to share their water resources with other nations.
---