Obama can expect a week of protests ahead of G-20
British bankers won't wear ties as groups threaten violence ahead of the economic summit in London.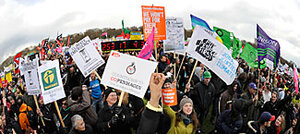 Toby Melville/Reuters
Saturday's protest march by some 35,000 people went off peacefully here, in fact there was a carnival atmosphere, complete with brass bands and clowns.
But British authorities are preparing for a difficult week in the run up to Thursday's Group of 20 meeting of world leaders. Many fear that protests planned could spill over into the type of street riots not seen here for years.
Bankers and others working in London's financial heart have been advised by the authorities to dress down and swap suits for casual wear. On Wednesday (April 1), a disparate collection of activist groups plans to occupy the city for what they bill as a "Financial Fools Day."
Why no ties?
Last week, anonymous individuals vandalized the Edinburgh, Scotland, home and car of Fred Goodwin, the former head of the Royal Bank of Scotland, whose bank received a government bailout and who has become a focus for public anger over his refusal to return a $24 million pension.
More than 10,000 shifts will be worked by police this week in London by officers from all over the country as part of a security effort estimated to cost $10 million.
All time off for London police has been canceled, and reinforcements have been brought in to bolster the ranks of more 3,000 officers on the day of Wednesday's protests, which senior officers have predicted will be "very violent," according to press reports.
---