G-20 leaders to target nations harboring tax dodgers
Under threat of sanctions, Switzerland and other tax havens are starting to rethink their secrecy laws.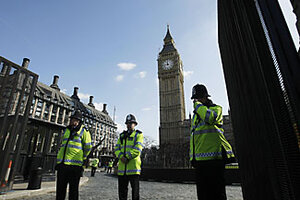 Matt Dunham/AP
In Switzerland, Peer Steinbruck has become "The Ugly German."
The German finance minister, a Social Democrat, is known for his brash and biting remarks. But when he slammed the Swiss over their obsession with banking secrecy, the usually placid Swiss erupted. Some even called him a Nazi.As leaders from the Group of 20 Nations meet in London this week, the row between Germany and Switzerland may be just the warm-up. The G-20 is determined to put on a show of unity in the fight to heal the broken global economy. But when it comes to stopping tax dodgers, major powers like the US, Germany, France, and Britain are getting ready for a fight with the countries like Switzerland that aid them.
Steinbruck led the charge when he said at a recent preparatory meeting for the G-20 summit that the Swiss might have to be coerced into cooperating in the battle against tax evasion. "The cavalry in Fort Yuma doesn't always have to ride out. Sometimes it is sufficient just for the Indians to know that they are there," Steinbruck said.
The Swiss went ballistic. The German ambassador in Bern was summoned to comment. The tabloid "Blick am Abend" dubbed him "The Ugly German." Thomas Müller, a Christian Democratic, told the Swiss parliament, "He reminds me of that generation of Germans that walked the streets in leather overcoats, boots and armbands 60 years ago." Accelerated 'progress' after years of pressure
---