Germany's hard line on the stimulus: Why Merkel says 'Nein'
Ahead of G-20, German leader balks at more spending and more debt.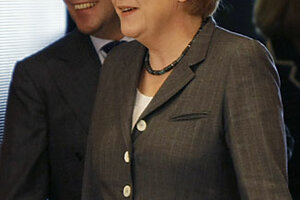 Herbert Knosowski/AP
Angela Merkel, the leader of Europe's largest economy, says no to offering more fiscal stimulus for the ailing global economy.
Ahead of the London Group of 20 meeting, whether this is a bargaining position or a firm principle is unclear. But the German chancellor is the locus of the issue – especially after recent comments that reveal an even tougher stance against further debt and spending.
The G-20, billed as of great historic and practical importance for moving the world economy forward, has steadily inched backwards from the expansive global "New Deal" envisioned by host British Prime Minister Gordon Brown last fall. President Barack Obama is stressing "unity" among the 20 nations that make up 85 percent of the globe's economic output. But the "significant stimulus" called for again this week by the White House has been met in Berlin without joy.
---