Obama lays out steps for a nuclear free world
In Prague speech Sunday, the US president talked about Iran, North Korea, Russia, and how to stop the spread of nuclear weapons.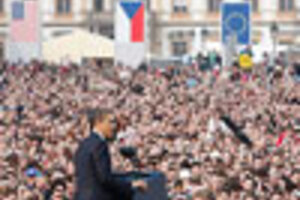 Jason Reed/Reuters
President Barack Obama unveiled his vision for a world free of nuclear weapons in a major speech Sunday in the Czech capital.
Speaking to a crowd of some 30,000 under the spiky spires of Prague Castle, the US leader pledged that Washington will take "concrete steps" to reduce US nuclear weapon stockpiles and underscored the urgent need to bring into force the Comprehensive Nuclear Test Ban Treaty.
"Some argue that the spread of these weapons cannot be checked — that we are destined to live in a world where more nations and more people possess the ultimate tools of destruction," Mr. Obama told the crowd in his key address during his maiden diplomatic tour of Europe as president. But criticizing such fatalistic attitudes as a "deadly adversary," he added, "If we say to ourselves that the spread of nuclear weapons is inevitable, we are saying that the use of nuclear weapons is inevitable."
Obama said Washington would host a summit by the end of the year to discuss "locking down" loose fissile materials.
Obama's speech came hours after news North Korea tried and failed to launch a satellite into orbit on a long-range rocket that can carry nuclear warheads.
Obama joined a wave of international criticism, saying Pyongyang had "broken the rules" and must be forced to change. "Now is the time for a strong international response," he said.
If Iran backs down ...
---