In Turkey, Obama says US not at war with Islam
US president discussed Armenian massacre, democracy, and EU membership.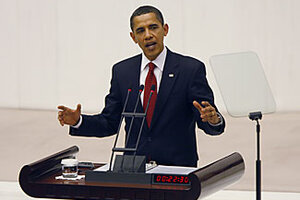 Jason Reed/Reuters
As part of his effort to repair the strained Turkey-US strategic relationship, President Barack Obama today delivered a wide-ranging speech to Parliament, stressing the country's importance as one rooted in both Europe and the Muslim world and encouraging its leaders to continue on the path of democratic reform.
Obama also used his speech to reach out to the Muslim world, telling the applauding parliamentarians, "The United States is not, and will never be, at war with Islam."
"In fact, our partnership with the Muslim world is critical in rolling back a violent ideology that people of all faiths reject. But I also want to be clear that America's relationship with the Muslim world cannot and will not be based on opposition to Al Qaeda. Far from it. We seek broad engagement based upon mutual interests and mutual respect," the president said.
The two countries have clashed over the last several years, particularly regarding the 2003 American invasion of Iraq (Turkey refused to allow US troops to enter Iraqi territory via Turkey). During the Bush administration, Turks grew increasingly antagonistic, with only 9 percent holding a favorable view of the US according to polls in 2007 – down from 52 percent in 2002.
But Obama used his speech to reaffirm the Turkish-US relationship.
"Turkey is a critical ally. Turkey is an important part of Europe. And Turkey and the United States must stand together – and work together – to overcome the challenges of our time," the president said, listing a number of issues that concern both countries, among them terrorism, nuclear proliferation, and energy security.
---