Accused Nazi guard faces deportation to Germany
On Monday, a US judge ruled John Demjanjuk is healthy enough to face trial in Germany. He's accused of complicity in the deaths of 30,000 Jews and gypsies.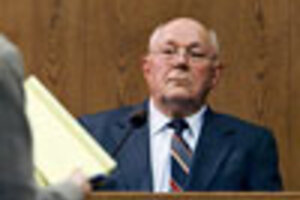 C.H. Pete Copeland/AP/File
John Demjanjuk, a retired autoworker living in Cleveland, faces deportation to Germany Wednesday to answer to war crimes charges that as a guard at a World War II Nazi extermination camp he had a hand in the deaths of nearly 30,000 Jews and gypsies.
In this country of long memories and an ongoing determination to face up to the legacy of its Nazi past, even 60 years on, cases such as Demjanjuk's rarely raise questions here about whether too much time has elapsed to prosecute old crimes.
"If Mr. Demjanjuk is too ill to stand trial, that is one thing, and for others to decide," says Peter Graumann, the vice president of the Central Council of Jews in Germany. "Apart from that, I think it's very important to try him as a signal and a sign of justice being done at last – that there is no time limit to justice."
The fate of Mr. Demjanjuk edged closer to a German trial Monday when US Immigration Judge Wayne Iskra reversed his own ruling from three days before that had stayed Demjanjuk's deportation on grounds of poor health.
---