Many small businesses in Germany thrive during downturn
From roofers to bakers, the entrepreneurial class that helped the country rebuild after the war eases the impact of the recession.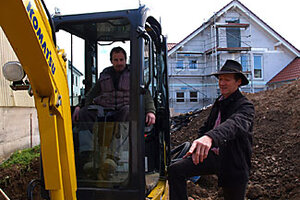 Christoph Rau/Special to the Christian Science Monitor
MAINTALBISHOFHEIM, Germany
While the global economic cascade hit Germany with full force this past winter, it brought Manfred Steberl another job. A young couple had just lost €20,000 ($26,580) in the stock market. They pulled what savings they had left out of the bank to put in another asset – their home. They hired Mr. Steberl, a contractor, to install solar panels, parquet flooring, and a plush bathroom.
"People would rather hire somebody they trust and invest their money in their own projects than give it to a bank they don't trust anymore," says the affable Steberl. "The Germans attach great importance to their interior, to where they live."
In Europe, the crisis has devastated countries dependent on foreign investments, such as Iceland, and those thriving on the car industry, like Hungary. Germany, too, is struggling. But the country's legendary small businesses and entrepreneurs, like Steberl, are helping to at least moderate the recession.
Tailors and bicycle mechanics, roofers and bakers, they are the Mittelstand (small- and mid-sized enterprises) that helped Germany rise from the ruins of World War II. Now they are acting as a shock absorber against the economic tumult.
"The Mittelstand is going to withstand the crisis," says Frank Wallau, head of the Bonn-based Research Institute on Small and Middle-sized Enterprises.
Firms with up to nine employees are the backbone of the German economy, making up 93 percent of the country's 1.6 million enterprises. Small and middle-sized firms hire two-thirds of the people – even more than in the US and Britain, experts here say. While demand for German products has shrunk to historic lows – with the big automakers' woes rippling through the economy – the Mittelstand has avoided large-scale layoffs so far.
---