Chechnya: Russia declares 'mission accomplished' in strong-man state
The country is under the harsh, one-man rule of Ramzan Kadyrov, who wears a track suit, keeps a pet tiger, and urges men to take second wives.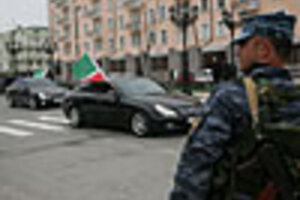 Musa Sadulayev/Reuters
After nearly a decade of harsh "antiterrorist" operations that frequently targeted civilians in Chechnya, the Kremlin has declared the mission accomplished and pledged to withdraw at least half its troops from the now pacified, mainly Muslim republic.
According to the Kremlin, years of relentless – if often controversial – security measures combined with generous reconstruction aid provided by Moscow have proven to be a winning formula that isolated Chechnya's separatist and extreme Islamist rebels, cornered them in the republic's remote mountains, and ultimately defeated them. It is also seen as a victory for former President Vladimir Putin's strategy of "Chechenizing" the conflict by turning power over to Moscow's local allies, led by Chechnya's current strongman Ramzan Kadyrov.
Announcing the decision to lift the emergency regime Thursday, the official National Antiterrorism Committee painted a picture of civilian life returning to normal in the formerly embattled territory and stated that Chechnya is now ready to conduct free trade, travel, and investment with other parts of Russia and even to receive international flights at Grozny's airport.
---