Despite forecasts, cold front lingers over US-Russia relations
The two nuclear powers continue to bicker over NATO war games, nuclear weapons, and fighter jets in Kyrgyzstan.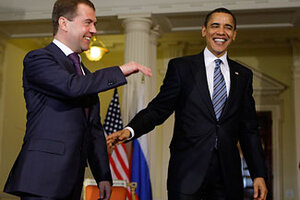 Alexander Zemlianichenko/AP
It's been less than a month since presidents Barack Obama and Dmitry Medvedev dramatically pressed the "reset button" in US-Russian relations, symbolically calling a halt to several years of chilly ties.
But the roadblocks are already proliferating.
Three flashing amber lights in the past few days have signaled profound differences between Moscow and Washington, and suggest that warm smiles and handshakes at summit meetings might not be enough to bring the two nations together. Although the emerging problems aren't insurmountable, experts say that they may be a small indication of things to come as Russian and US negotiators attempt to find a common language after several years of shouting past each other.
"I couldn't understand why some observers were recently talking about a 'full reset' of relations between us; that's just asking to be disappointed," says Dmitri Suslov, an expert with the independent Council on Foreign and Defense Policies in Moscow. "I prefer to speak about a pause in the growth of dangerous tendencies. Now, after the honeymoon, we're coming back to hard realities."
Some recent "go slow" signs:
---