Swedish court secures ex-Guantánamo Uighur's asylum quest
Adil Hakimjan, the first freed Guantánamo prisoner to be granted asylum in Europe, says he is 'very happy.' President Obama called Friday for seven of the 17 remaining Uighurs at the prison to be released.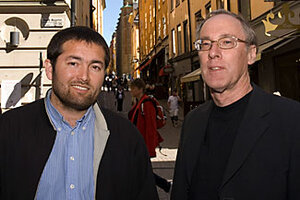 Johannes Lindgren
On Wednesday, a Swedish court upheld the asylum bid of a Uighur freed from Guantánamo prison in 2006.
Adil Hakimjan, a former merchant, this February became the first of Guantánamo's ex-detainees to avoid return to their homeland and instead be granted asylum in the European Union.
The asylum grant was challenged, but Wednesday's action ensures Mr. Hakimjan will be allowed to stay in his adopted home of Sweden.
"I'm very happy. I can start my new life," an elated Hakimjan said Thursday morning, speaking through a translator. "Sweden is a very good country."
Taking a more somber tone, he then observed, "I hope the world now realizes I'm not a dangerous person and that my friends are not, as well," referring to the 17 Uighurs cleared of wrongdoing by the Bush administration in September 2008, but yet remaining in Guantánamo prison.
In March 2005, Hakimjan was himself cleared of any wrongdoing by a US military tribunal. He had left China in 1999, a victim of what Amnesty International recently termed "harsh repression of ethnic Uighurs," but in the aftermath of 9/11, his journey led not to freedom but into the hands of a bounty hunter in Pakistan and, eventually, the US terror prison at Guantánamo. (For the full story on Hakimjan's journey, click here.)
---