Royal parade attack leaves Netherlands feeling vulnerable
The days may be over of open-topped buses carrying the queen and leading
politicians who cycle to work.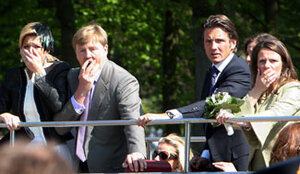 Patrick van Katwijk/DFP/Reuters
A gruesome attack Thursday on a parade honoring the Netherlands' royal family has left seven dead, including the perpetrator, and has deeply shaken the nation's bedrock values of trust and security.
The middle-aged man who drove a small car into a packed crowd of bystanders before crashing into a stone monument, narrowly missed an open-topped bus carrying Queen Beatrix and members of her family in Apeldoorn, 60 miles southeast of Amsterdam.
Prosecutors dropped charges against the driver, identified in the local media as Karst Tates, after he was confirmed dead from injuries sustained during the crash. Officials confirmed the attack was premeditated and likely aimed at the royal family.
"From the first contact we had with the accused, there are indications that this was a deliberately-planned act," prosecutor Ludo Goossens told reporters.
Very little is known about Mr. Tates, though police say he had no previous criminal record. Dutch media reported Friday that Tates had recently lost his job as a security guard. He was due to leave his apartment Friday because he could no longer afford the rent. No explosives were found in either his car or home.
---