Springtime in Russia: Eurovision, hockey championships, and the world's most beautiful woman
The country is feeling unusually cheerful as it claims top spots in beauty, talent, and sports competitions.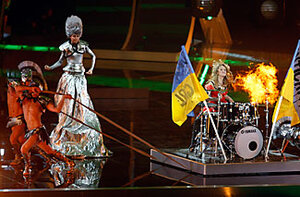 Denis Sinyakov/ Reuters
From being home to the world's best hockey team and most beautiful woman to hosting the Eurovision song contest, Russia has been on a roll lately, culturally speaking.
A spate of little triumphs in the worlds of sports, music, and glamour may seem like no big deal to less troubled nations, but for Russians they appear to matter a lot.
"For Russians, these victories serve as important indicators that things are going well," says Denis Volkov, an expert with the independent Levada Center, a Moscow-based polling agency. "People think: 'At last, Russia is taking the place it deserves.' "
Sunk in their third crushing economic crisis in two decades, and still uncertain of a post-Soviet identity, tens of thousands of Russians poured into the streets of major cities Sunday after their national hockey team defeated Canada to hold on to the world hockey championship. Many danced in the streets all night.
The victorious hockey team received a phone call of congratulations from Prime Minister Vladimir Putin. On Tuesday, they were greeted in the Kremlin by President Dmitry Medvedev, who reportedly told them that the passion produced by the win was just what Russia needs right now.
---