After months of strikes, university students in France ask for their grades
France's education minister: 'There will be no bachelor's degree awarded for striking, no master's for petition-signing, no doctorate in obstruction.'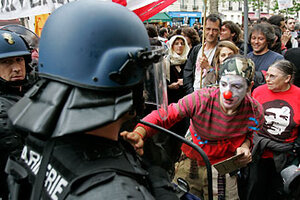 Michel Euler/AP
If teachers did not teach and students did not study, should the semester count?
France's state universities are wrestling with that question as an especially tumultuous school year ends, with final exams and diplomas for thousands of students hanging in the balance.
Anti-government strikes all but paralyzed many state schools over the past four months, even longer than the famous student revolt of May 1968. The barricades came down in the last week most of the universities – but too late, in many cases, to reschedule all the missed courses and still keep to the normal exam schedule.
"I thought I would spend the summer looking for a job," says Elodie Parnasse, a panicked history student at the sprawling university in Nanterre, outside of Paris. "I may have to spend it doing makeup classes."
The extended strikes by faculty members and students have hit each school and each academic department differently. Some courses were unaffected and other classes met only intermittently. At blockaded universities, classes were held off-campus, online, or not at all. Some professors taught, but abandoned their regular subjects in favor of impromptu alternative lectures on life, literature, and liberty.
The chaotic semester has given rise to confusion amid an array of possible solutions.
Some striking professors want to give everyone a passing grade regardless of whether they could, or did, come to class. Others have refused to give final exams or hand out grades at all. On some campuses last week, students clashed over whether to remain on the barricades, and the government warned it would not simply write off the semester.
---