Russian history 2.0: Kremlin wants to 'correct' the record.
A proposed law could make comparing Soviet rule with that of the Nazis a crime. Intellectuals fear a manipulation of Russia's past.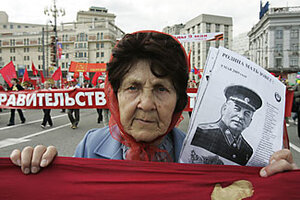 Alexander Natruskin/Reuters
A bitter joke from the Soviet-era has it that Russia is the world's only country with an unpredictable past.
That jibe has come winging back in recent days, after the Kremlin announced the creation of a special 28-member panel tasked with examining and combating examples of "historical revisionism" that harm Russia's image.
The committee, which has no legal power, is chaired by the head of President Dmitry Medvedev's administration, Sergei Naryshkin, and includes a sprinkling of historians but also lawmakers, Kremlin officials, the armed forces' chief of staff, and members of the FSB security service.
But a companion law, drafted by the pro-Kremlin United Russia party and soon due to be introduced into the State Duma, will stipulate fines and prison sentences of up to five years for anyone found guilty of "denying the decisions of the Nuremberg Tribunal."
This is a reaction to a growing body of historiography in former Soviet and Eastern European countries that depicts the long years of Soviet domination as similar in nature to the Nazi occupation, and suggests that for these nations, liberation arrived only when the USSR collapsed. Even more irritating for the Russians are perceived attempts in some places, like Ukraine and Latvia, to "rehabilitate" citizens who wore German uniforms during World War II to fight against the oncoming Red Army.
---